Enjoying Marbella's Chic Beach Club Lifestyle This Summer
Beaches are an essential component of Marbella's DNI. With the municipality extending over 40 kilometres of coastline, from Elviria in the east to Puerto Banús and San Pedro de Alcántara in the west, the beach is a key focal point of Marbella's highly-coveted lifestyle, especially during the summer season and the pleasantly moderate warm months of spring and autumn.
When you add more than 100 kilometres of coastline throughout the rest of the Costa del Sol – including the neighbouring municipality of Mijas – it is no surprise that Marbella is at or near the top of many homebuyers' lists when it comes to purchasing a second holiday home in the sun, making a permanent move to the southern Mediterranean area, or investing in a lucrative buy-to-let property.
And then there are Marbella's beach clubs, a chic showcase of the resort's glamorous party image. When the sun shines – which is most days on the Costa del Sol – beach clubs offer fun-filled days of champagne, DJs and chilled-out sounds, gourmet cuisine and private pool deck beds overlooking the sea, not only in Marbella but also in other popular resorts areas such as Estepona and Sotogrande.
Many of the top properties available from Promas Estates are either located next to a beach club or within convenient walking distance – and certainly no more than a short drive by car, taxi or Uber.
Here are some of the most popular and exclusive beach clubs, where you could even find yourself rubbing well-tanned shoulders with a visiting celebrity at the cocktail bar.
Beso Beach:

Already famous in other iconic destinations such as Ibiza and Sitges, Beso Beach opened on the Costa del Sol earlier this year, just in time for the summer season – and is located on the "New Golden Mile" five kilometres east of Estepona town centre.
Nosso Beach:
For an exceptional day beside the sea, Nosso Beach is one of Marbella's favourite havens, offering a paradisiacal mix of culinary and entertainment delights (bohemian, organic-designed restaurant terrace, cocktails, live music and DJ sessions) and the ultimate in beachside relaxation – highlighted by exquisitely golden sands and azure waters along the eastern coastline of Las Chapas (exit El Rosario).
COYA Pool:
Set up in an elevated sub-tropical paradise setting in the heart of Marbella's renowned Puente Romano resort on the Golden Mile, COYA Pool combines signature Peruvian cuisine and cocktails with what they describe as a "chic and free-spirited pool club ambience".
Max Beach:
Overlooking the sea in the Riviera del Sol area of Mijas, Max Beach ​​provides guests with an "authentic boho style ambience" that is in harmony with the natural surroundings and includes both sky terraces and a balcony and a lower deck closer to the beach, with luxurious day beds
Don Carlos Beach Club:
Featuring an avant-garde design and set in the midst of verdant tropical vegetation, the Don Carlos Beach Club in Elviria offers a spectacular pool by the sea, with Mediterranean cuisine, customised VIP treatments, and the promise of being able to "experience the meaning of the word hedonism".
Bono Beach:
Offering guests the opportunity to "Live by the sun, love by the moon", Bono Beach in El Rosario is a well-established club that is popular for its luxurious Balinese-style beds and sumptuous beach cuisine.
Florida Mijas Beach: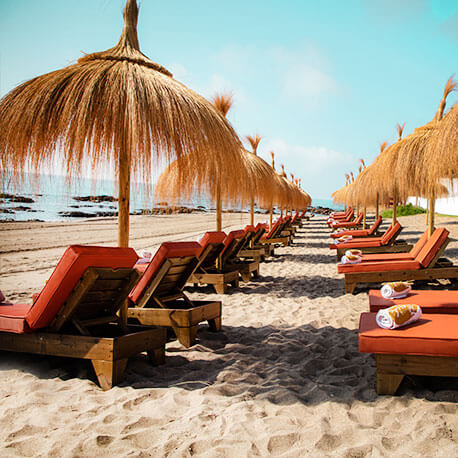 Just across the Marbella border in La Cala de Mijas, Florida Mijas Beach is a multi-space complex that comprises a 3,000 square metre beach area, swimming pool, cocktail bar, restaurant and disco-club, "where gastronomy, art and music come together to celebrate a different event every week".
Opium Beach Club: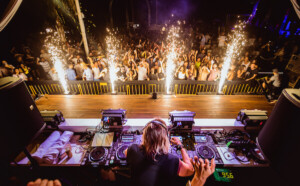 Located on the eastern outskirts of Marbella, Opium Beach Club moves seamlessly from relaxing summer days in a spectacular pool setting, with a broad range of international culinary options and cocktail mixes, to evenings in a moon-lit outdoor lounge with hot beats playing into the early hours of the morning.
The Beach – La Reserva Club Sotogrande:
Don't expect a traditional beach club here, in the sense of being by the sea, as this is "the first country club to bring the beach to the hills", with a diverse array of exclusive amenities for the whole family in an attractive lagoon setting.
La Sala by the Sea:
Situated in an ultra-select location on the Puerto Banus shore, La Sala by the Sea is a stylish, Thai-inspired beachfront club offering soft sands, exquisite dining and laidback Mediterranean vibes.
Nikki Beach:
One of the world's most legendary beach clubs, Nikki Beach Marbella has been a glamour-drenched (literally, when the champagne is in full flow) party institution in Elviria since 2003, offering revellers a swimming pool with sunbeds on a raised deck, a large open-air restaurant, a centrally located octagon-shaped bar, a lifestyle boutique and a terrace with stunning views of the Mediterranean.
Ocean Club:
Extending over 9,000 square metres in the pulsating heart of Puerto Banús style and indulgence, Ocean Club is the epitome of luxurious beach club pleasure, offering guests chilled-out days relaxing around an enormous saltwater pool and lively evening-themed parties.
Trocadero:
Inspired by nature, the Trocadero chain has created a network of beach clubs throughout the Costa del Sol, including its flagship establishment on Marbella's Golden Mile, as well as others in Benalmádena, Los Monteros, Estepona and Sotogrande – and further afield in Tarifa, the southernmost point of continental Europe.
Contemporary Chiringuitos
In recent years, the Costa del Sol's classic chiringuitos (beach hut-style restaurants) have undergone a major transformation, with many becoming modern beach clubs in their own right while maintaining their traditional culinary options.
Apart from Marbella and Mijas, the beach promenades of La Carihuela and Los Álamos (in Torremolinos) and Fuengirola offer a flourishing array of cool chiringuitos, with DJs and chill-out music, luxurious sunbeds and beach waiter service, and sardines cooked "espeto" style on barbecue embers.
If you would like to enjoy the full beach club experience every season and be able to do so from the comfort of your own home nearby, contact Promas Estates this summer to check out our superb range of coastal properties.